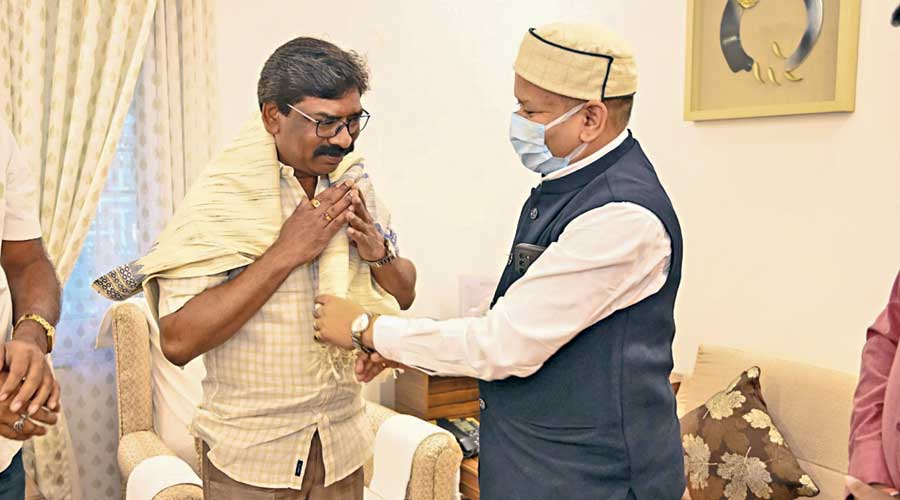 Hemant Soren to attend National Tribal Dance Festival October 28-30
Jharkhand Chief Minister Hemant Soren has confirmed his participation in the second national tribal dance festival to be held in Raipur in Chhattisgarh from October 28-30.
The confirmation came after an invitation from Soren's counterpart to Chhattisgarh, Bhupesh Baghel, through a letter delivered Wednesday by Chhattisgarh Parliamentary Secretary and Congressman Vinod Chandrakar.
The Chhattisgarh MP delivered the letter to Soren in his residential office in Kanke, Ranchi, and briefed him on the early civilizations of the country and the world and the efforts undertaken by the government of Chhattisgarh to preserve and develop their culture and traditions. promoting culture, folk dance, folk music and folk arts through the "National Tribal Dance Festival 2021".
Significantly, the ICCR (Indian Council for Cultural Relations) will host the second festival organized by the government of Chhattisgarh. The first edition took place in 2019. However, there was no festival last year because of the Covid.
"The Chief Minister thanked Chhattisgarh MP Vinod Chandrakar and extended his best wishes to the Chhattisgarh government for the successful organization of the festival and expressed his eagerness to attend," said an official of the Chief Minister's secretariat. .
Previously, the MPP of Chhattisgarh also published details of the cultural programs that will be presented by the artists in the form of tribal folk songs, music and dances from different states and union territories as well as other countries.
During the 2019 festival, also held in Raipur, around 1,800 artists from 25 states and three Union Territories of the country and six other countries (Sri Lanka, Thailand, Maldives, Bangladesh, Uganda and Belarus) presented various forms folk dance from their respective regions. . For dances there will be two categories, dances held at wedding ceremonies and dances held at other traditional ceremonies.
Registrations from States and Union Territories will be closed on October 20.
The top performers will be judged by a jury and there will be cash prizes for the first, second and third place holders and consolation prizes. The winners, runners and third place holders will receive Rs 5 lakh, Rs 3 lakh and Rs 2 lakh respectively.
In the wedding and sanskar category, Chhattisgarh won the first position while Jharkhand got the second position in 2019.
"All participants will need to be in traditional costumes with a live music performance. Pre-recorded music will not be allowed during performances. Respective states can send short reports on their traditional dance form along with artist names and photographs to the email [email protected] by October 20, "said a close associate of Soren.