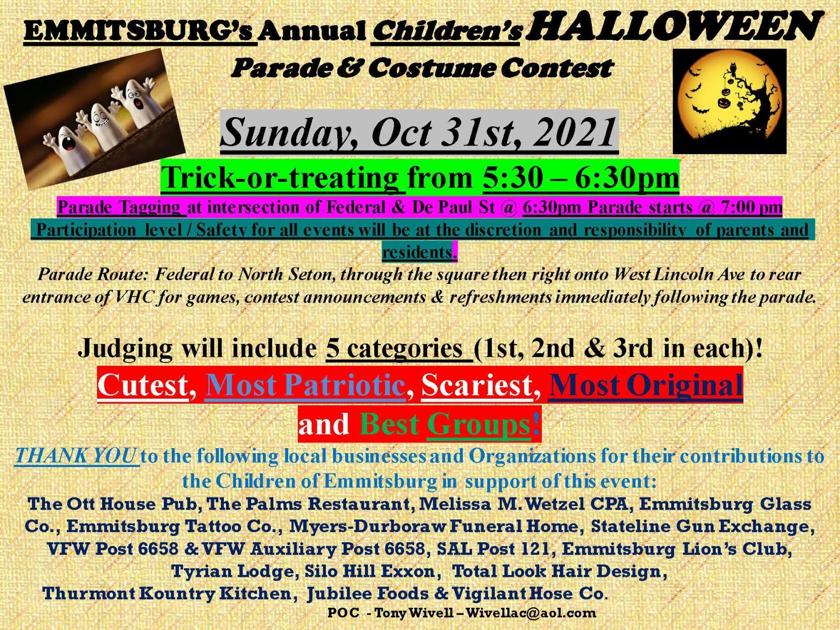 Halloween Activities Planned in Frederick County | Way of life
There is no shortage of spooky and sweet Halloween events in Frederick County this weekend. Whether you're looking for a parade, costume contest, or sleight of hand, towns and local groups have plenty to do with you. Here is a summary of a few:
The city of Brunswick offers a downtown Halloween party Saturday from 6 p.m. to 8 p.m. at Square Corner Park. The celebration will include a costume contest, pumpkin carving contest, haunted hay walks and dancing, as well as a trunk or treat.
In Emmitsburg, sweets will take place on Sunday from 5:30 p.m. to 6:30 p.m. followed by a parade and a children's costume contest from 7 p.m. Lincoln Avenue at the back entrance of Vigilant Hose Co. for games, contest announcements and refreshments.
Middletown will feature a Halloween parade and costume contest on Saturday. The parade is scheduled to take off at 5 p.m. from Martha Mason Drive and end at the Civic Center for sweets and refreshments. Judgment begins at 4:30 p.m. at Martha Mason Drive.
The Main Street Candy Crawl will take place at Mount Airy Saturday 11 a.m. to 3 p.m. Mount Airy Main Street Association fundraiser tickets cost $ 2 for ages 2 and up. Event parking will be located behind Calvary United Methodist Church, 403 S. Main St., Mt Airy. Separately, there will also be a trunk or treat event at Taylorsville United Methodist Church on Saturday from 5 p.m. to 6:30 p.m.
In Thurmont, the trick-or-treat is scheduled for Sunday from 6 p.m. to 7:30 p.m.
While the Town of Walkersville leaves the planning of treats or treats to the neighbors, the Walkersville branch library will be hosting trunks or treats from 6 p.m. to 7:30 p.m. for children ages 0 to 12 on Sundays.
Follow Mary Grace Keller on Twitter: @MaryGraceKeller