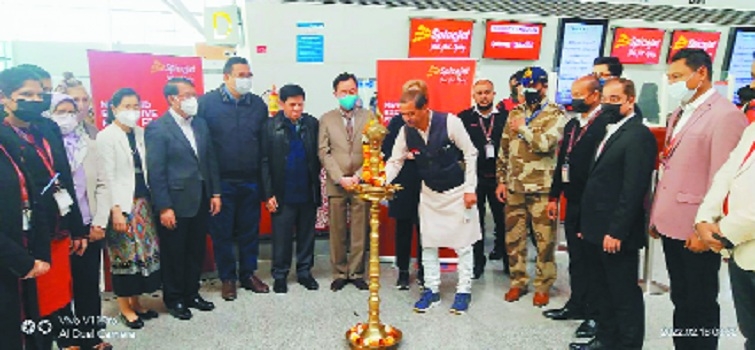 Confluence of Devotion and Dance 'Khajuraho Dance Festival' starting today
Om Prakash Sakhlecha, MP and Minister for MSMEs with delegates lighting the lamp to mark the inauguration.
Business office:
The 48th Khajuraho Dance Festival 2022 will start on February 20. Renowned artists from across the country will showcase their arts at the week-long mega event, which will end on February 26. A large stage has been set up near the famous temple site of Khajuraho. The Ambassador of Vietnam, Lao PDR, Finland, Brunei and Malaysia will also grace the event with their wives. To facilitate tourists' access to Khajurao, SpiceJet launched flights from Delhi to Khajuraho on Friday. Om Prakash Sakhlecha, the MSME Minister of Madhya Pradesh and the delegates inaugurated the operation with the lighting of the lamp.
According to officials, Pham Sanh Chau, Ambassador of Vietnam, Bounneme Chouanghom, Ambassador of Lao PDR, Ritva Koukku-Ronde, Ambassador of Finland, Dato Alaihuddin Mohd Taha, High Commissioner of Brunei and Hamid Abdul Hidayat, High Commissioner of Malaysia will arrive for the event. The festival will be inaugurated by Governor of Madhya Pradesh, Mangubhai C Patel. A trained artist will perform with the temple as the backdrop features the snippet of a glorious history and culture. Apart from showcasing cultural dance forms, the festival will also feature many other events.
Which includes, Alankaran, Art-Mart, Nepathya, Hunar Chalchitra, Heritage Run, Rafting and Bundeli Cooking with Chal Chitra. During the seven-day music festival, tourists will have the opportunity to experience village life. Tourists can book Homestay for rural experiences. Visiting Madla village will allow them to explore the real India. They can participate in different activities such as walks in the village, pottery, crafts, etc. To make the trip memorable, visit Panna National Park, Pandav Waterfall, Raneh Waterfall. Indulge in adventure activities like night safari and boating on the Ken River.