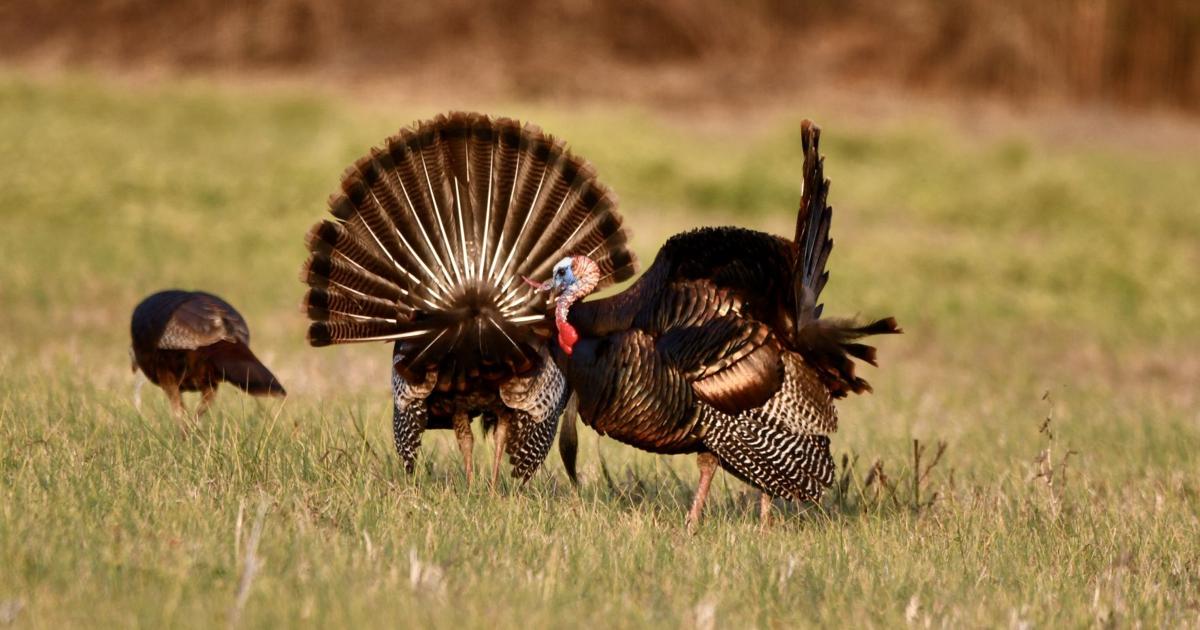 April 7 Laconics: Community Events, Activities and Announcements | Local
The Greene County Public Library, Wellness Center and Chamber of Commerce will host a Community Easter Egg Hunt beginning at 10:30 a.m. on Saturday, April 9 at the Recreation Department ball diamonds near the center of wellness, 84 N. Perry Drive.
The Farmville Community Garden, 4355 W. Cotton St., will meet at 10 a.m. on Saturday, April 9 to review actions discussed over the past month and finalize plans for the May 7 open house. If you would like to attend the meeting virtually, check out the @farmvillecommunitygarden Facebook page. For more information, contact Cathy Holmes at 252-714-5930.
King's Crossroads Original Free Will Baptist Church, 2080 Seven Pines Road, Fountain, will host revival services at 7 p.m. April 10-15 with guest evangelist John Hill. A daycare is available.
Emmanuel Episcopal Church, 3505 S. Walnut St, Farmville, will celebrate Palm Sunday at 11 a.m. April 10 with a procession through the church with palm fronds depicting Jesus' triumphal entry into Jerusalem. Maundy Thursday will take place at 7 p.m. on April 14 with the commemoration of the Eucharist at the Last Supper and the washing of the feet. Good Friday will begin at 7 p.m. on April 15 with the draping of the cross and the laying bare of the altar depicting the crucifixion of Christ. The Easter Sunday service will be held at 11 a.m. on April 17 with the laying of flowers at the cross to commemorate the resurrection of Jesus. Reverend Bob Hudak will be present at all of these services. For more information, call Cathy Holmes at 714-5930.
Farmville American Legion Post 151 meets at 6:30 p.m. Mondays at Farmville Christian Church, 3776 S. Main St. Meetings are held the second Monday of the month.
Greenville's PirateFest will return after a two-year absence on April 8-9 with fine art, live music, BMX shows, beer and wine, sword fights, a pirate camp , food vendors and more within eight blocks from Town Common to Five Point. Square. Friday's headliner on the Town Common Stage, 105 E. First St., is DJ Tay James. Saturday's headliner is Eric Paslay. Visit piratefestnc.com to learn more.
The ECU Pirate Club will host the 37th Annual Pigskin Pig-Out April 8-9 at Dowdy-Ficklen Stadium and other venues. The event includes an overnight pork cooking contest on Friday and a variety of events starting at 10 a.m. on Saturday including a barbecue plate sale, concerts, car show, touch truck, Meet the Pirates and the Purple-Gold Football Game. Visit ecupirateclub.com/sports/2022/2/9/annual-pigskin-pig-out.
The Platinum Divas Car and Truck Club will hold its annual Easter event at Ayden Veterans Park on Third Street from 2-6 p.m. on April 16. The event will include an egg hunt with over 1,000 eggs and other activities for children. The event is free and open to all.
Vietnam Veterans of America Chapter 272 is holding its monthly membership meeting on Thursday, April 14 at The Hut, 2805 Cemetery Road, Greenville, with a free lunch at 6 p.m. and a meeting at 6:30 p.m. VVA Membership is open to all Vietnamese. veterans of the time. Bring your DD214.
The Sierra Club Cypress Group, in association with National Earth Day 2022, local schools and environmental groups, is sponsoring a public Earth Day celebration at the Green Roof Farm, 1822 Old Market Road, Fountain, from 14 a.m. to 5 p.m. Sunday April. 24. The event will include wagon tours of restoration/conservation efforts; presentations on climate change; experts to answer gardening questions and best practices for sustainable methods; demonstrations by environmental groups; antique farming tools; music, food and fun activities. For more information: Visit the NC Sierra Cypress Group www.sierraclub.org/north-carolina/cypress.
The Community Outreach soup kitchen at 3492 S. Walnut St. in Farmville serves hot meals from noon to 1 p.m. Monday, Wednesday and Friday. The kitchen depends on donations and volunteers. To volunteer or for more information, call Janet Heath at 917-4563.
Magnolia Arts Center, 1703 E. 14th St., will perform "Junie B. Jones, The Musical" at 7:30 p.m. April 14-16 and April 21-23. Additional matinee performances will take place at 2 p.m. on April 16 and 17 and April 23. The musical is an adaptation of four of Barbara Park's best-selling books, brought to life in a musical not strictly for kids that celebrates themes of friendship, acceptance and humility. Tickets are $20 for general admission and $15 for students and seniors. Visit magnoliaartscenter.com.
USA Dance will be holding its April Ballroom Dance from 7-9 p.m. on Saturday, April 16 at the Historic Turnage Theater, 150 W. Main St., Washington, NC Cost is $10 per person. It is open to the public. No partner required.
The Family Chess Club now meets from 6-9 p.m. every Wednesday at Apt To Learn, 650 E. Fire Tower Road, Suite B, Winterville. Chess lessons will take place from 6:00 p.m. to 7:00 p.m. Chess sets are provided. All levels of players are welcome. The club is affiliated with the United States Chess Federation. Call Jerry Skinner at 209-4148 or email [email protected]
The Biodiversity Initiative and the Department of Biology at East Carolina University will host an Earth Day Expo from 3-5 p.m. Tuesday, April 19 at the new Life Sciences and Biotechnology Building , corner of Evans and 10th Street. Researchers from ECU and local organizations will present exhibits and activities on topics related to biodiversity. There will be live animals and plants, lab activities, hours of natural stories, and more. Visit biology.ecu.edu/biodiversity/, email [email protected], or call 252-328-9841.
ECU/Loessin Playhouse will present "Romeo and Juliet" by William Shakespeare, at 7:30 p.m. from April 20-23 at the McGinnis Theater on campus. Further matinee performances will take place at 2 p.m. on April 23 and 24. Tickets are $15 for the general public and $10 for ECU students and youth. . An online viewing option is available. Visit ecu.edu/arts or call 328-6829.
The East Carolina University Opera Theater will perform a double bill of Benjamin Britten's "The Prodigal Son" and Giacomo Puccini's "Sister Angelica" at 7:30 p.m. Thursday, April 21 and Friday, April 22 at St. Paul's Episcopal Church, 401 E. Fourth St. Tickets are $15 for general public and $5 for students and are available at www.ecuarts.com. For more information, call 328-6247.
The annual Farmville Dogwood Festival will take place April 21-24. The event will include food, musical entertainment, rides, arts and crafts, and commercial vendors. The Dogwood Bash will begin at 5:30 p.m. on April 23. It will feature the opening act: Mean Street-A Van Halen Tribute, Ultimate Aldean-A Jason Aldean Tribute and Who's Bad-The Ultimate Michael Jackson Experience. Tickets are $15 in advance and $20 at the door. Visit farmvilledogwoodfest.com.
Greenville Museum of Art, 802 Evans St., will host its 48th annual celebration of fine arts at 7 p.m. on April 22. The indoor-outdoor, cocktail-dressed event, "Starry Night at the Museum," will include musical entertainment, dancing, live performances and silent auctions, an open bar, appetizers, an open bar, raffles and exhibits celebrating this year's theme. Tickets are $100 for members and $125 for others. Visit www.gmoa.org or fac2022.givesmart.com.
The 30th Annual East Carolina Unnatural Resources Fair returns April 22-24 at the Greenville Convention Center, 303 Greenville Blvd. Prepare your entrees. The installation will take place on April 21. Find information at www.unnaturalresources.org, email [email protected], or call 355-1039. Anyone can enter from kindergarten to seniors east of I-95.
The family and friends of a 3-year-old boy killed by his father in 2012 in Grifton are hosting Jesse's Rally for Change at 1 p.m. Saturday, April 23 on the lawn of ECU's Main Campus Student Center, 501 E. 10th St. The event will move to Room 125 of the Student Center in case of inclement weather. The event will include activities for children, a raffle, speakers and music to remember Jesse and promote Jesse's Law intended to strengthen child safety efforts in North Carolina family courts. Jesse was killed shortly after his mother filed for divorce. The father then committed suicide. He was one of more than 800 children murdered by a divorced or separated parent in the United States since 2008, organizers said. Christy Melvin, Jesse's mother, and her supporters will be present.
The town of Grifton will host its 50th Shad Festival from April 27 to May 1. The event will feature carnival rides, food and craft vendors, an art exhibit, petting zoo, vintage tractor display, live performances and a parade. The Fishy Tales lying contest to be held at the Grifton School Media Center at 6 p.m. on April 26. A Shad Festival parade will begin at 10 a.m. on April 30. Visit griftonshadfestival.com.
The Grifton Historical Museum and Indian Village, 437 Creekshore Drive, is open from 1 p.m. to 5 p.m. on the first and third Sundays of each month. Appointments are available by calling 252-524-0190.
Ayusa, a non-profit organization dedicated to promoting global learning and leadership through foreign exchange, study abroad, and leadership programs for high school students across the United States and around the world worldwide, is currently accepting applications from families to host an exchange student for the coming year. The program is open to all applicants, including empty parents, single parent families, and traditional and non-traditional families. For more information, contact Connie Lawrence of Ayusa at 919-612-5013 or [email protected] and visit www.ayusa.org.
The Pitt County Council on Aging offers the following classes and programs at the Pitt County Senior Center, 4551 County Home Road. Offers are free unless otherwise stated. Registration required unless otherwise specified by calling 752-1717, Ext. 201.
To help! I fight against compassion fatigue and caregiver syndrome! 10-11 a.m. Monday, April 11.
Brew Time: Let's Learn About Coffee, 3-4 p.m. Monday, April 11.
Getting to Know Your iPhone, 2-3 p.m. Thursday, April 14.
Expand your investment knowledge from 6 to 7 p.m. on Wednesday, April 20.
Spring Lemonade and Design Painting Class, 2-4 p.m. Thursday, April 21. The cost is $10.
Getting to Know Your Android Phone, 2-3 p.m. Thursday, April 21.
Springfest 2022 Craft and Vendor Fair 10 a.m. to 2 p.m. Saturday, April 23. Over 60 vendors, live music and food trucks.
Jewelery class from 2 p.m. to 4 p.m. on Wednesday April 27.
Day trip to Tryon Palace on Monday 16th May. $65 covers transportation, admission to the Tryon Palace, Museum and Gardens, and a buffet lunch at Baker's Kitchen.